If you're reading this, it's likely that you are either in a toxic and fractured relationship or are going through a breakup of the one relationship you never imagined you'd ever have to break off.
No contact is the ultimate relational Jedi move. It is of the greatest propellants of confidence, self esteem, and classy "revenge," that can ever be employed.
It's also one of the most terrifying and difficult realizations to not only have to come to, but know that you now have to ACT on.
This could be with a friendship, romantic relationship, or even a familial relationship. I've implemented no contact with friends, co-workers, classmates, and family members. It's devastating when you come to this point in ANY relationship.
Whether you need to cut physical contact with someone you are hung up on who treated you poorly
OR...
Even if you're not hearing from them at all, you need to cut emotional contact and don't know how.
This course is for you.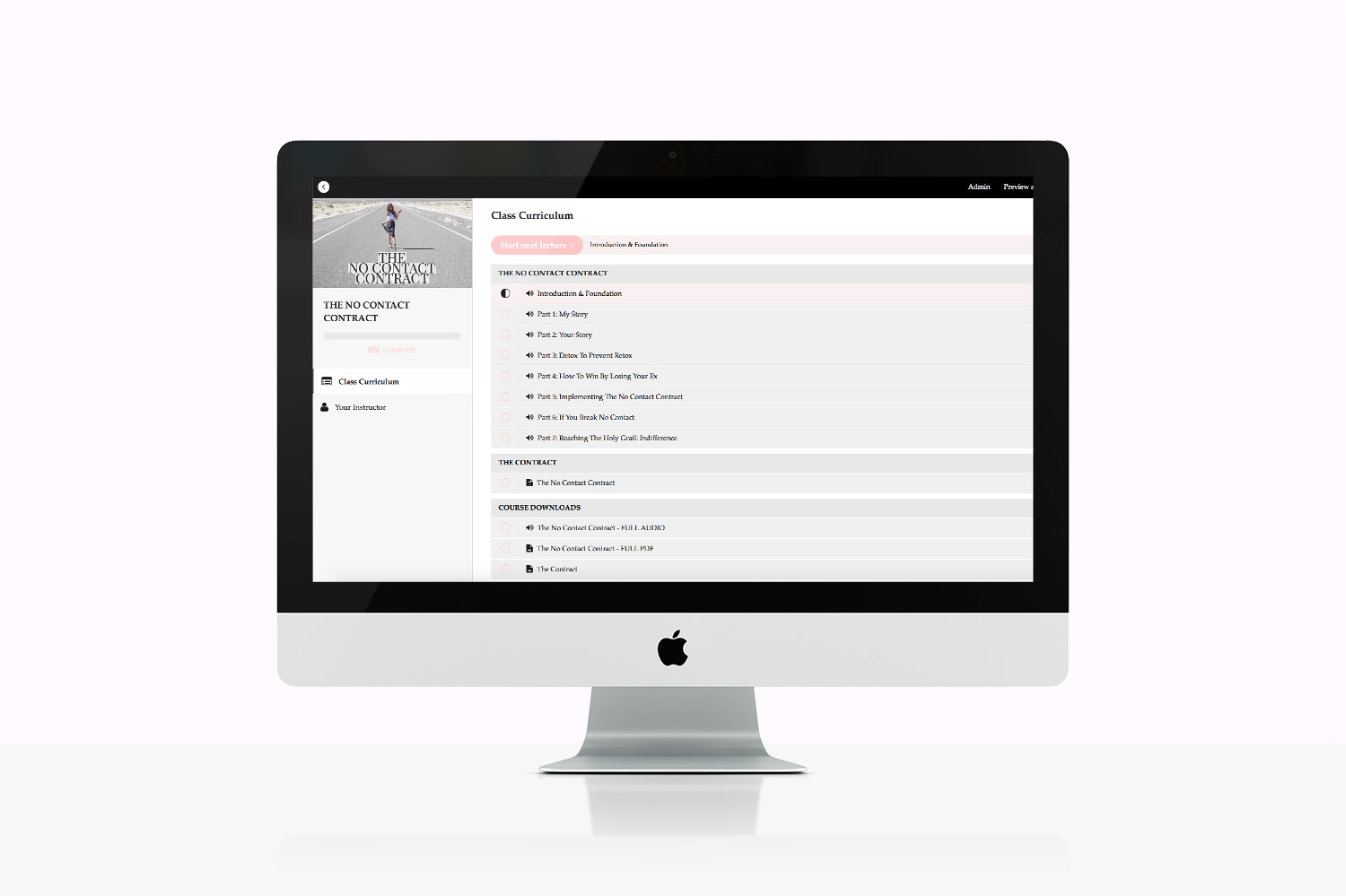 The No Contact Contract is what they would refer to as a "master cleanse" in the world of functional medicine. It's a rigorous bullsh*t flush, a dignity savior, an unf*ckwithability solidifier, and a confidence instiller. It will allow you to come to terms with having to cut contact, relieve your anxieties associated with doing so, and ultimately, help you get what you want – indifference, peace, and even the superficial things that we ALL think about and hope for.
This digital and audio course is like a one-on-one coaching session with me that you can always rewind, replay, and refer back to.
Wouldn't it be great to view your situation objectively, get the peace and indifference you're after and be able to be your own breakup and relational shot-caller?
If insecurity, doubt, paranoia, and fear have taken over to the point of paralysis and you are struggling with letting go of someone who:
- Is toxic.
- Thinks that the truth has versions. This person lied to you and in some cases, continues to lie. He/she coats those lies with just enough truth so that you're completely mind f*cked and don't know what to think.
- Broke your heart by prioritizing their selfish needs and agenda.
- Treated you with a lack of respect, honesty, decency, commitment, and now skates in and out of your life at their leisure.
- Is unable to empathize and because of this, busts your boundaries and always prioritizes his/her level of comfort over yours.
- Is pushing the friend or friends with benefits card but is unable to commit.
- Thrives on ambiguity - Sending you mixed signals one minute and ghosting another minute.
- Makes sure everything is always on their terms.
- Makes you feel broken, crazy, insecure, and ashamed for being you.
- Has broken up with you and/or broken your heart multiple times.
- Is impossible to make a clean break with. You can't imagine life without them despite how poorly you were treated.
You need to cut contact. Even if just one of the above applies to your situation.
This digital and audio course takes you through all of the steps, fears, and even the missteps involving no contact - Including your substantial AND superficial wants.
WHAT YOU WILL LEARN:
- How to come out on top.
- How to feel great about cutting contact - both emotionally and physically.
- How to gain the objectivity needed to reach indifference.
- What the person on the receiving end of your scissors being used is thinking.
- How to rise up from your own ashes of embarrassment and reactivity. You will learn how to literally change your identity and the way this person views you.
- How to replenish the confidence and self esteem that this relationsh*t drained you of.
- How to run out of f*cks to give in regard to someone who does not value anything other than their needs.
As soon as you register, you will be prompted to create a personal password and confirm your email. You will then be taken to the members area where you can get started right away and access the course material + audio. This course is very rich with material but is specifically designed to not overwhelm. The focus is on the one thing that you've allowed to be ignored for far too long – YOU.
As always, your privacy and satisfaction are 100% guaranteed.